July 13
Happy Bastille Day Eve
Loads of new horses in the barn this time. I finally got photos of most of the Christmas presents...only six months late. Still a bunch of SMs and CollectAs that are ready for their close-ups. Oh and a couple of new HR minis that just arrived.
Admirador del Mar, 1996 liver chestnut Paso Fino stallion (Breyer El Pastor "Tobe The Rocky Mountain Horse" OF)

Clairvoyant, 2003 bay blanket Appaloosa stallion (Breyer Latigo 2013 Premiere Club OF)

Manolo C, 2005 grey (bay) Andalusian stallion (Breyer SM G3 Rearing Andalusian 2007 JCP SR OF)

Mohegan, 1999 black roan Mustang stallion (Breyer SM G3 Mustang 2007 JCP SR OF)

Hillalong Meridian, 1994 chestnut Australian Stock Horse mare (Breyer Little Bits QH OF)

Reign Supreme, 1995 bay NSH stallion (Breyer Little Bits Morgan OF)

Cash N Scotch, 2000 bay frame overo Paint stallion (Breyer Idocus "Wapiti" LE OF)

Coyote Bright, 2008 buckskin blanket Appaloosa stallion (Breyer Appaloosa Performance Horse "Indian Horse" OF)

Joes Limbo Bar, 1995 chestnut tovero Paint gelding (limited foal crops) (Breyer Jumping Horse "Kiowa" 2013 Vintage Club OF)

Phanatic, 2006 chestnut (woodgrain) ASB stallion (Breyer Saddlebred Stallion "Mù Wén Ma" OF)

Play It Coolest, 1995 chocolate palomino (charcoal) QH stallion (Breyer Adios Vintage Club 2014 OF)

Soberano do Mar, 2005 chestnut Criollo stallion (Breyer Desatado "Aurelius" OF)

Taris Rein Chex, 1996 grey (black) QH stallion (Breyer Premier Club "Wyatt" 2014 OF)


We have 442 horses competing in the MEPSA Photo Show Championships this year - a new record for us! I tried my hand at putting together an ad for the Champ Book - what do you think?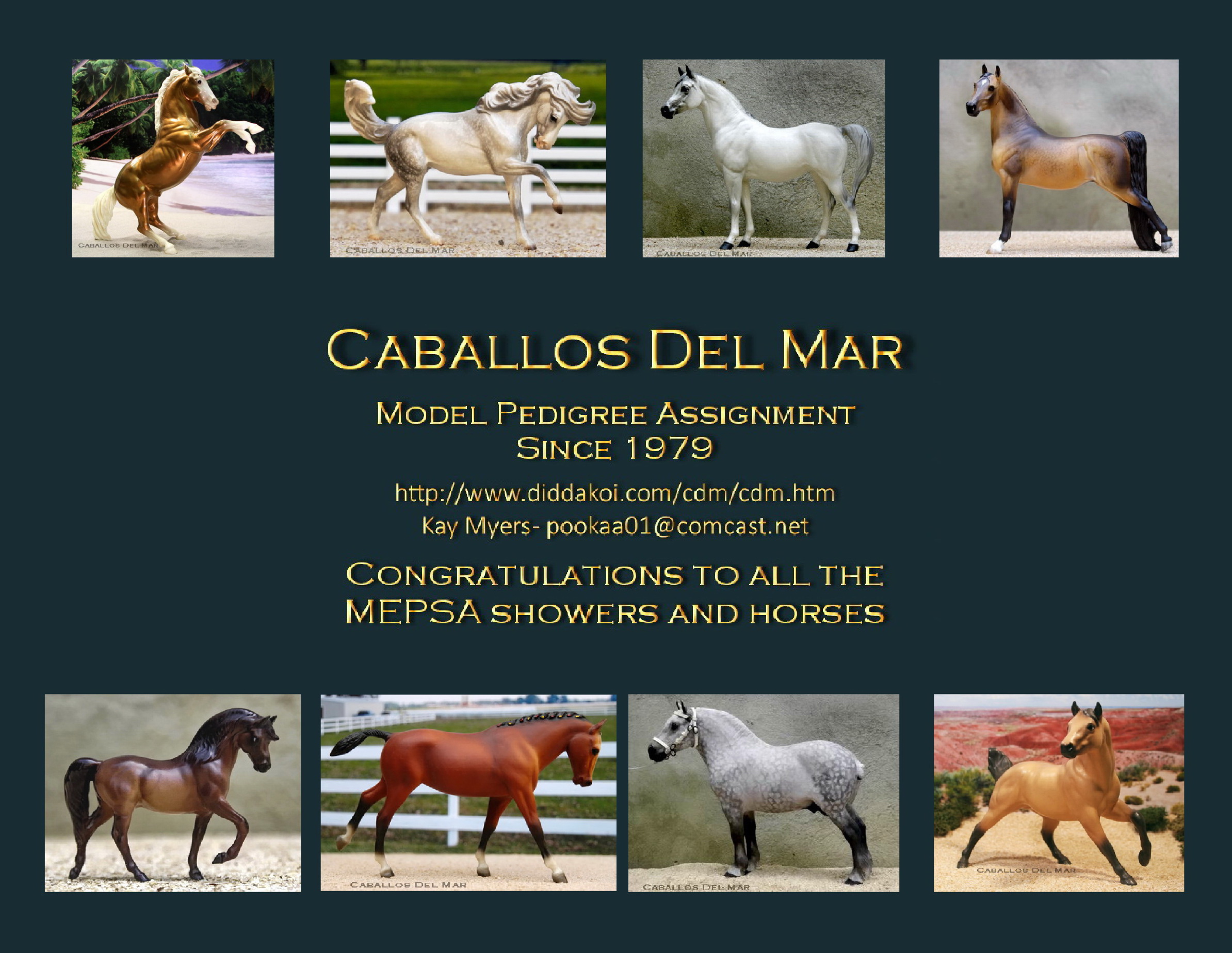 The new MEPSA show season starts the first weekend in August - time to get the first set of show photos together!